2-1/16" OAL This double barrel pinfire is based on two guns. The profile is that of a typical Austrian pinfire. The double barrels and barrel lock are based on the common Belgian pinfire pistols of the 19th century. The barrels on this gun are extra sturdy and are constructed from drill rod. The hammers and triggers are shaped rather than flat, and are of cast brass. The frame, is nickle plated cast brass.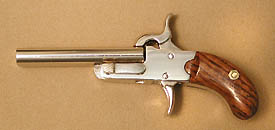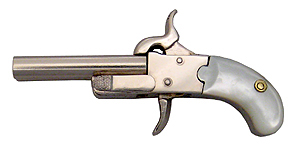 Above is the open top with rosewood grips and Mother of pearl grips.

...Prices:

Austrian Double Barrel with rosewood, ironwood, or Ebony grips $600.00
Austrian Double Barrel with mother-of-pearl grips (not shown) $625.00
Glass top display box for Austrian Double Barrel pistol $15.00
Ivory grips are no longer available.