1-1/2" OAL This tiny pinfire, pocket automatic is based the profile of the Colt .25 automatic. The slide tilts up to load a cartridge with the pin facing down, making this an underhammer pistol. At the rear of the slide is a spring loaded latch to hold the barrel closed. The underhammer protrudes - below the barrel release - and is cocked by pressing down on the hammer. The frame and slide are nickel plated cast brass. The hammers and triggers are made from hardened steel. The standard grip material is genuine mother of pearl.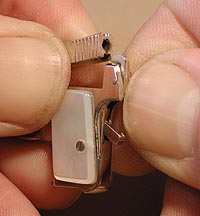 ...Prices:

Colt .25 with genuine mother of pearl grips $600.00

I can also make this gun in mock ivory, ironwood, rosewood or Ebony grips for the same price.
Glass top display box for Colt .25 pistol $15.00