1-7/8" OAL This is a faitful miniature of a French, Delvigne derringer. I had a good time researching this gun - the original of which is in the Jimmy Thomas collection - and there is an article about it in the April 2007 issue of the Miniature Arms Society Journal.
5mm,

The original, a 5mm pinfire, is made of steel. The miniature is nickel plated cast brass. This gun has good snap, and nice weight. The barrel rotates to the side for loading, and is kept in place by a unique side spring. The grips on the full size gun, used as a model for this mini, has what look like baklite grips, but I decided to make the example shown, in Ironwood, a dense, dark wood which looks like the original, but is less fragile.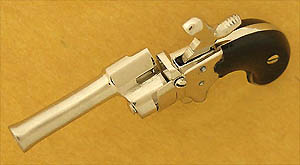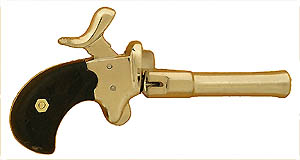 ...Prices: No longer available.