1-7/8" OAL This five shot pinfire revolver is modeled after the Colt Open Top revolver. The cylinder must be turned by hand, and is held in position by a spring tensioned ball bearing pushing up into indents in the cylinder.

The frame, is nickle plated cast brass. The hammer, trigger, and cylinder nickle plated steel. On the top right is an open top with MOP grips.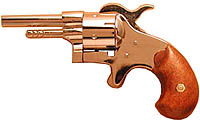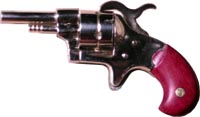 Above, shown actual size, is the open top with stained pear wood, and rosewood grips.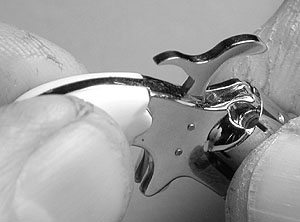 Above: Cocked with cylinder alligned with loading slot.
...Prices:
Open Top Revolver with various grips $650.00
Open Top Revolver with mother-of-pearl grips $675

Engraved Frame No longer available on this gun.
Ivory grips are no longer available.
Glass top display box for Colt open top $15.00