1-13/16" OAL This is a faitful miniature of the underhammer bootpistols, manufactured circa 1830 to 1860. The pointed, oblique grips are typical of those made in the New England area by makers such as Hale, Jenison, Ruggles, and others.
For the most part the underhammer pistols were single shot percussion pistols. My verson has been modified to fire a 2mm pinfire cartridge. In the parts photo shown below, you can see the bottom of the barrel with it's slot for the cartridge pin. When the cartridge is inserted, and the barrel screwed on to the frame, the pin points down.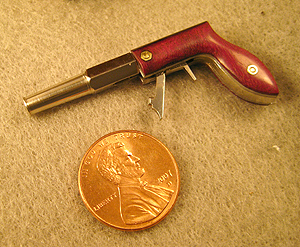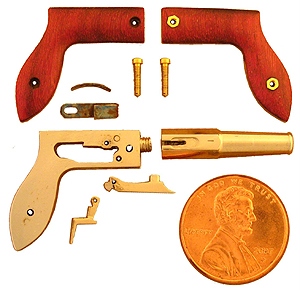 Above: shown with rosewood grips, hammer in the cocked position.
...Prices: Underhammer Bootpistol with ironwood, or rosewood grips.... $700.00
Glass top display cases for this gun are an additional $15.